Blog
Replies to Replies
October 18, 2009
A quick post today to reply to a a couple of replies before going back to the norm tomorrow.
In response to a post a couple of days ago, Steve Chambers said this: "all this analysis seems to be relevant to getting in shape for a competition rather than for everyday life.  I guess it depends on one's priorities."
Hey, Steve, thank you for your reply.  I found your feedback quite valuable.

Yes, doing the calculations recommended in the last several posts can be used to fine tune your physique.  However, my original intention in posting the diet details in those posts was to take the guesswork out of what to do, as far as food is concerned, to lose fat and/or gain muscle.  I need to work on making it more simple, and I will.  Look for the simplified method for making the caloric needs, protein, fat, and carb needs estimations at darrylpace.com in the near future.
Here's another question posed in response to a previous post.
Lisa Mclellan asked this question: "…I started doing inclines and another exercise where you sit and pull the weighted bar down in front of and behind your head with spread arms. Not sure if you know what I mean, but you need a machine to do that one.  Any ideas on how to tone that muscle again."
Lisa, I believe that the exercise you described is called a "lat pulldown", and it is meant to exercise the latissimus dorsi, which is the "wing" muscle under the arm and on the side of your torso, which extends onto your back.  If you have any dumbbells at home, you can do an exercise called the dumbbell pullover that exercises this muscle (the latissimus dorsi) along with the chest.
Here's a video that shows a guy doing the dumbbell pullover.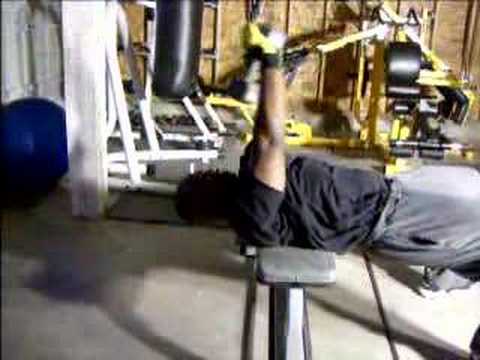 Darryl
17 Responses to "Replies to Replies"
CALENDAR
January 2018
M
T
W
T
F
S
S
« Feb
1
2
3
4
5
6
7
8
9
10
11
12
13
14
15
16
17
18
19
20
21
22
23
24
25
26
27
28
29
30
31
PAGES
CATEGORIES